Ohio--Not to make a joke out of our next suspect, but going bald at 20 is probably embarrassing for most young men, but going bald at twenty and being arrested for child pornography is a whole different spectrum.
Such is the case of Rootstown resident,
Cody Pawlus
, who was apprehended earlier this week as part of an
ongoing multiple statewide police investigation
.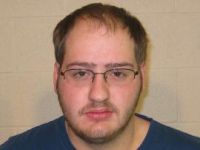 Pawlus is accused of pandering a so-called "large volume" of sexually oriented matter involving minors after authorities allegedly seized "numerous amounts" of child pornography at four different suspected locations.
He remains in jail in lieu of $50,000 bond.
Besides the above MySpace profile, Mr. Pawlus also created an account on Facebook found here.