Update:
Pedophile Adam Bopp is guilty.
A 23-year-old Barrington man pled guilty Wednesday to charges that he sexually molested a teenage girl he met through a social networking website.

A Cook County judge sentenced Adam Bopp to 24 months probation and ordered him to undergo counseling for sex offenders. Additionally, Bopp must register as a sex offender for 10 years and must pay about $1,600 in fines, prosecutors said.
Illinois--A 22-year-old Barrington man has been arrested after police say he
repeatedly sexually abused a 15-year-old girl
he met using MySpace.
The suspect,
Adam Michael Bopp
, has been charged with aggravated criminal sexual abuse, which if convicted could land him in prison up to 7 years.
Bopp is believed to have met the alleged victim in 2009 in which he reportedly engaged in sexual activity with the teen at his home sometime in July.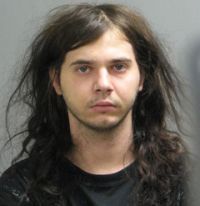 One of Bopp's most recent MySpace accounts has since been closed but an older one is still available via the above mug shot photo.

Mr. Bopp has also used several aliases online including, "redangelblood", "freakishkornkido" and "adamxoxoxo".

A Facebook account of our well groomed suspect can be found by clicking here as well as a Bebo profile here.

Bopp appears to have posted ads on adult sex related websites that cater to cross-dressers and transvestites which leads me to believe he might have also posed as a teenage girl who believes "she" is some sort of vampire:

"...i don't care if u think i am a fake cuz u know what i wish i was fake some vampires enjoy killing people and feeding off them but i don't. I have even tried animal blood. i got the idea from twilight. i was just trying to find another way. it does work. i still feel the need to hunt humans but i am really trying hard not to."
I will not be linking either the adult site (for content reasons) or the vampire link because I cannot 100% confirm Mr. Boop is the individual who appears to be suffering from a severe case of identity crisis.
Although by looking at the mug shot and knowing what we now know, I can totally see Adam Bopp in a dress sitting in his room and sucking the blood out of a dead squirrel.
Totally...
UPDATE
: Bopp sentenced to two years probation.