A 31-year-old Michigan woman has been arrested on 10 counts of possessing and disturbing child pornography over the Internet after reportedly
taking naked pictures of a 7-year-old girl
and sending them to a Big Rapids man.
Andrea Marie Mast
, of Evart, allegedly
e-mailed the pictures
of the child to a former high school coach identified as 41-year-old
Timothy Thomas Sims
.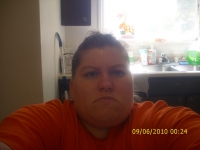 The girl has since been placed in child protective services.

Mast, who writes on her above MySpace profile that she is a "proud parent" and appears to enjoy tattooing, also had accounts on both Facebook and myYearbook.