Missouri--A Lake St. Louis man has been arrested after allegedly confessing to police that he
raped two neighbor girls
268 different times over a three year period.
Police are currently seeking 528 counts of statutory rape and child molestation charges against 45-year-old
Corey Lane Brown
, who was arrested December 15th at a hospital following a
suicide attempt
in which he reportedly cut his left inside forearm.
The victims are said to be just 8 and 9 years old,
according to a report
.

Bail was set at $500,000 for Brown who was considered a flight risk after prosecutors argued that he had been a former military sniper with friends from oversea.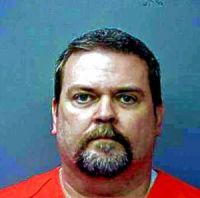 On his above MySpace profile, Brown had once stated the following:
"I have been in the Army as Military Police and sniper, and worked casino surveillance on riverboat casinos. I was in the Gulf War in 1990, and as you can see, I made it out in one piece! I have been fortunate to live in Germany, the Bahamas, and various cities thru out the US."
He is now currently living at the St. Charles County Jail.