Mississippi--An insurance salesman
working for Allstate
more than likely was fired yesterday after investigators paid a visit to his office and took with them his computer that allegedly contained a "
sizeable number
" of pictures featuring pre-teen girls.
Mark W. Rushing
, 33, was then hauled off to jail by police who later paid another visit to his home in Ridgeland where they confiscated his personal computer.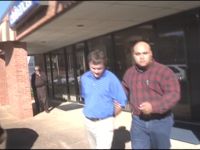 Besides the above MySpace profile, Mr. Rushing (who is married) maintained two accounts on Facebook one for Allstate here and a personal one as well located here.
Prior to his arrest he had worked at the building for 2 and a half years, according to detectives.