A 25-year-old Minnesota woman has been arrested after police say she
engaged in sexual acts with two young children and a dog
.
Krystal Violet Norby
, of Stacy, was charged with two counts of first degree criminal sexual conduct, both felonies, and one count of bestiality.
The case against Norby initially began shortly before Christmas when authorities in Canada tracked down an unspecified amount of images over a p2p network to Norby's residence in Hugo.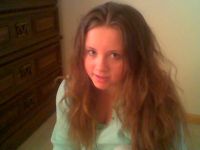 The pictures allegedly featured two small children, a dog and Norby engaging in "sexual acts".
Interestingly, she had been photographed for an article that had been published by the Catholic Spirit one day following her arrest.
Bail was set at an absurd $40,000.

Besides her above MySpace, Norby also maintained another profile on the once popular social networking giant found here as well as two separate accounts over on Facebook here and here.
UPDATE: Norby has since bonded out of jail according to information obtained on Vinelink.
I was able to track down her e-mail address and other information in which she had amassed a small fan base for people interested in both "K9" (bestiality) and "family love" (incest).
She has two children and even identifies them by name to her pervy so-called stranger "friends".
On another site, Norby claims to have been impregnated by a relative. On that same site she post various sexually explicit pictures of herself and is seen masturbating using a cucumber on a porch next to a dog house and a bottle of Gatorade.
A shadow of what appears to be a man is taking the picture...