New York--A 38-year-old minister has been arrested and charged with
raping a then 12-year-old girl
after DNA results linked him to the alleged crimes.
Michael Anthony Clare
, of West Hamilton, is accused of impregnating the now 16-year-old victim, who is said to be a former parishioner at his church in Wakefield.
According to the Wall Street Journal
, the sexual relationship began sometime in 2006 when the girl was 12 and ended almost four years later after turning 16.
At the age of 15, the unidentified victim gave birth to a child, which
DNA subsequently linked
to the "
devoted husband and father
".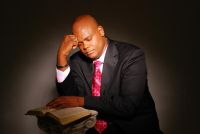 Clare, a native of Jamaica, served as Senior Pastor of Harvest Worship Center International, according to information supplied to us by his MySpace page.
The
"humble"
man of "
great integrity
" and "
a paragon, a model of excellence, and a perfect example of living and preaching
" is currently in jail in lieu of $50,000 bond.
I would link Clare's Facebook page as well, but there's not much there other than a picture of a small child and a list of nearly 800 "friends".