Indiana--A 16-year-old male has been arrested in the double homicide shooting deaths of two Camby men.
Logan Mediate
, of Indianapolis, is accused of killing both William Smith, 45, and US Army veteran and father of three, 50-year-old Victor Pennell, near a vehicle in an alley on the city's far west side.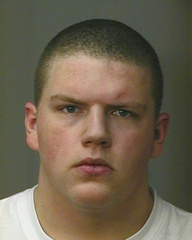 Besides the above MySpace profile, Mr. Mediate also maintained three older accounts found here and another more recent here in which we writes that he is a Juggalo.
For those of you readers out there that don't know what a Juggalo is think
wannabe-gangsta
from a trailer park or click
here
.
Regardless, a Facebook page created by Mediate is also available
here
.
Other sites frequented by the suspect include: