A Sulphur man is behind bars today after being arrested by Louisiana State Police on 33 counts of computer-aided solicitation of a minor.
Jamy Linn Church
, 34, admitted to detectives that he frequently
posed as a female
named "
Hope Smith
" in various online chat rooms in order to obtain pictures of young teenage males.
Although from my own research it appears that he used the alias, "
Sara Champman
" just as frequently (if not more) and once even
posed as a male
.
This all sounds eerily familiar to the case involving
our last suspect
and here's a similar picture to boot: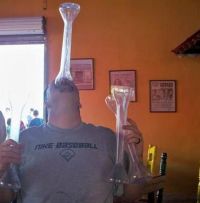 Unfortunately (or is that fortunately?) Burt Reynolds is nowhere to be seen in this particular photo.

According to the Sulphur Daily News, 33 juvenile victims from Louisiana have been identified thus far and investigators fear there may be more victims out there.

On his above MySpace profile, Mr. Church also appears to be affiliated as a boys baseball coach in some capacity, as to what that was I do not know as of yet.

The following are some of the suspected screen names and e-mail addresses he had used, also I've included some of the addresses associated with various online accounts:

Alliwally11@hotmail.com
Bartlett_brooke@hotmail.com
Bartlett_brooke@yahoo.com
Caliwally11@hotmail.com
Calliwallly11@hotmail.com
Calliwally11@yahoo.com
Calliwally14@hotmail.com
calliwally@hotmail.com
calliwallly@hotmail.com
callliwally11@hotmail.com
champamangirl@yahoo.com
champangirl@yahoo.com
champmamagirl@yahoo.com
champmangirl@yahoo.com (MySpace), (Facebook), (Stickam) & (WAYN)
hopes4193@live.com
hopes4193@yahoo.com (MySpace), (Facebook), (Stickam) & (Formspring)
micheals_jenna@hotmail.com (Stickam as a male)
micheals_jenna@yahoo.com
sasrac0818@live.com
sara0818@live.com
sarac08181@live.com
sarac0818@live.com (Bebo) & (Stickam)
sarac0818@yahoo.com
sarac1103@live.com
sarac1193@live.com (Facebook) & (Stickam)
sarac1193@yahoo.com
sarac119@live.com
sarsc1193@yahoo.com
I think it's a pretty safe bet that Mr. Church used the website Stickam to obtain some of the images.
A Facebook page created by Church has recently been deleted, although his Twitter still remains active.
Other real Internet accounts created by the suspect include Youtube, Flixster and Cruisecritic.
Anyone with additional information is urged to contact Louisiana State Police detectives at 337-491-2903.
Until his arrest, Church had been employed as the General Manger for The Hampton Inn.
He was interviewed in 2008 after Hurricane Ike savaged the surrounding areas.
UPDATE: Church sentenced to 24 years.