A 32-year-old Florida man has been arrested after allegedly
forcing his girlfriend
to watch him sexually assault her 12-year-old daughter three times in her mother's bedroom.
Jerome Nubin
, of Punta Gora, has been charged with charged with sexual battery, aggravated assault, kidnapping and domestic battery.
Police say Nubin had
beaten the child and threatened to slit her throat
before repeatedly assaulting her.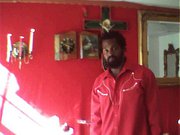 The grandfather, who is said to have had bricks, a child's scooter and a lamp all thrown at him, contacted police.

Normally I wouldn't put a profile such as his up on the blog as there's practically nothing there (here's a Facebook page though) but because of the severity of the allegations he is more than a worthy candidate.