An undercover online investigation has led to the arrest of a 24-year-old South Dakota man.
Travis Robert Herrick
, of Mitchell, was charged with two counts of possessing, manufacturing or distributing child pornography after allegedly
disturbing the files to an undercover officer
.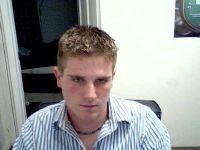 Bond was set at $10,000 for Mr. Herrick who had just recently gotten married a little over 9 months ago, according to information found online.
Besides the above MySpace profile, Herrick also maintained another one found
here
as well accounts on both
Facebook
and
Bebo
.
UPDATE
: Suspect facing new charges that he videotaped women victims without consent.