To meet his fake child date for sex
:
Here's a little diddy I missed via the
AZICAC
:
"Troy Charles Lester, age 33, was arrested for luring a minor for sexual exploitation."
Police say Lester (
the
would-be molester
) was under the impression he was going to engage in sexual activity with a 15-year-old child.
"The arrest occurred after Lester made arrangements via the Internet to meet a minor for sex acts."
The now 34-year-old Iraqi war veteran told the imaginary minor that he would like to "
do some licking and sucking
" and show the (undercover detective poser) "
new things
" but was weary about it all because he could "
get into a lot of trouble
."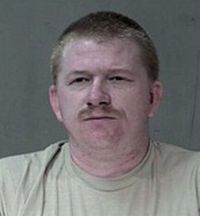 The pervy self-admitted "proud parent" was arrested after arriving at a fast food restaurant for what I'm sure would have been a lovely meal for two.