Police in Florida have arrested a self-described manager and owner's son of the
Desert Inn Resort
in Daytona Beach as well as a 20-year-old employee on accusations that they both conspired with each other to
trick a young 13-year-old boy
into performing sexual acts on video.
Dennis Brian Devlin, 57, and
Michael Charles Ehmen
, 20, were both taken into custody early Wednesday morning after investigators raided the hotel following a month long investigation by both the FBI and Daytona Beach police.
Ehmen, a family friend of the victim, is accused of
promising the boy a job installing cameras
at the 225 room hotel but instead brought the boy to Devlin's suite on the second floor of the hotel for a series of so-called video/photo sessions.
"In actuality, Ehmen took the boy to Devlin so that Devlin could photograph and film the child and Ehmen in the nude engaging in sexual acts, the FBI and police said."
Devlin, who is alleged to have
paid Ehmen for sex and possibly other male employees
, has been charged with two counts of promotion of a sexual performance by a child and one count of lewd or lascivious conduct.
Ehmen has since been charged with the same.
Devlin had actually previously been convicted of child molestation, but that was later overturned when the accuser recanted the allegations.
However, the case bares striking similarities with this current one involving Devlin.
"[Dennis Brian Devlin], who operated the Desert Inn Motel, used a room at that motel when he enticed young boys for sexual activities, state prosecutors said. He also faces misdemeanor charges for enticing a young man into prostitution at the hotel."
Meanwhile for Ehmen, his sister was quoted as saying he had been sick "
all his life
", was on medication and is "
just as much a victim as that child is
".
Here's our other victim then: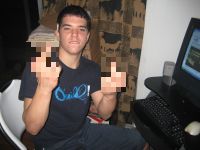 MySpace profile of suspect Michael Ehmen

The troubled "victim" who had written on his above MySpace profile that his occupation was simply "pot head" and whose "about me" features the Shakespearean like quote: "smoke week everyday stay high 420", reportedly told police that he didn't care about the boys age and that all he cared about was getting paid for taking the boy to Devlin's room.
This doesn't sound like much of a victim to me...
And how much did Devlin allegedly pay Ehmen anyway for all of this?
A whopping $180.00, according to report by WFTV.
In fact, less than a week ago Devlin was even interviewed on TV about it and threatened to sue TripAdvisor over the ordeal.
To check out all the negative reviews and the multiple ridiculous responses by management click here.
The hotel also claims to be the most famous hotel in Daytona which it probably is right about now.
Indeed, it does have a troubled history, including several people who have fallen to their death while staying there.
Anyway, I've been having problems accessing certain websites on the Internet lately so I'm unable to find anything for Mr. Devlin, but it should be noted that Mr. Ehmen also
maintained a page over on Facebook
as well.
Other sites of interest:
UPDATE
: Suspects now facing federal charges.
UPDATE II
: Victim and family have a history of tragedy, report finds.
UPDATE III: Devlin gets 15 years, Ehmen sentenced

to 7.