A 47-year-old Alabama mother has been charged with 4 counts of rape after police say she
engaged in sexual activity with several juveniles
between the ages of 13 and 15.
Marilyn Acosta Orange
, of Tuscaloosa, was taken into custody after investigators spoke with her regarding the allegations which are said to have taken place since November.
On one of her two MySpace profiles, Orange had once written the following:
"Originally from Kauai, Hawaii. Born and raised in Hawaii, after I graduated from High School, joined the military and served our country for thirteen years, got out and served another twelve years in the Army Reserve, but I'm still not retired. Married to my second husband for 5 years and have five beautiful children."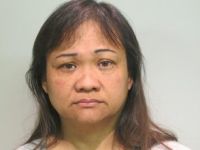 Who would have thought, huh kids?
Besides the above MySpace page, she also maintained another profile found here as well as an account over on Facebook here.
Orange is now currently being held on $120,000 bond.