A Washington minister and music teacher has been arrested on rape and molestation charges after allegedly
forcing himself on a 15-year-old piano student
.
The suspect,
Royce Clinton Shorter
, reportedly had been hitting on the girl during her
$37.50 an hour lessons
at his
N-Time Music Productions
studio
and store
for some time before ultimately coercing her into having sex.
The 15-year-old victim told investigators that he assaulted her on at least five different occasions.
Shorter, who was convicted in 1985 of statutory rape involving a 12-year-old, had also been charged (
but later acquitted
) of molesting another girl back in 1993.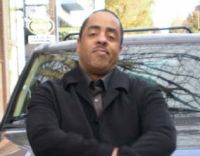 Before being arrested, he had been the pastor at the Ecclesia Community Church in Renton.
While Shorter's MySpace profile has since been set to private, he also maintained an account over on Facebook found here as well as several other personal sites on the web found here and here.
On them, the good reverend boast about being the executive director of
RCS Ministries
, an HIV/AIDS and prison outreach ministry that had been formerly stationed in Seattle.