Indiana--A 36-year-old man who had been awaiting trial on accusations that he molested a child under the age of 14 is now dead after
killing both himself and his fiancee
at a home in the densely populated town of Chesterfield.
Police believe
Aaron Lee Wagers
shot and killed 25-year-old Megan Louise Rider sometime during the early morning hours on Sunday, February 13th.
The bodies were discovered by Rider's own father after arriving home (
the two had been living there
) from work around 6:30 a.m.
While police are unaware of any motive at this time, it is known that Wagers had been
released from jail earlier this month
after posting a $35,000 bond on charges that he engaged in both sexual intercourse and oral sex with a young girl between 2007 and 2009.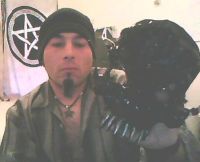 MySpace profile of Aaron Wagers
Facebook


On his above MySpace profile, Wagers ("Sunwolf420") writes that he was an amateurish filmmaker and claims that he had been contacted by a major film studio interested in something he had been working on entitled, "Hubris: The Weekend Of Malcontent".

He then describes the meaning of the movie:

"Hubris means extreme haughtiness or arrogance. Hubris often indicates being out of touch with reality and overestimating one's own competence or capabilities, especially for people in positions of power.
Wagers continues:
"In its modern usage, hubris denotes overconfident pride and arrogance; it is often associated with a lack of humility, not always with the lack of knowledge. An accusation of hubris often implies that suffering or punishment will follow..."
And then goes on some more still:
"The Malcontent is a character type often used in early modern drama. The character is discontent with the social structure and other characters in the play. The most important thing about the malcontent, is that he is malcontent—unhappy, unsettled, displeased with the world as he sees it—not at ease with the world of the play in which he finds himself, eager to change it somehow, or to dispute with it. He is an objective or quasi-objective voice that comments on the concerns of the play and comments as though he is somehow above or beyond them.
Let's break some of this crap down then:
1. Unhappy and displeased.
2. Overconfident and arrogant.
3. Out of touch with reality and a lack of humility.
4. A sense of superiority who is beyond others.
Perhaps Mr. Wagers wasn't really describing the film as he was so much himself, huh?

After all, suicide is bad enough and undeniably selfish, but to voluntarily take another person's life is simply a monstrous act.

Wagers created this horror and the ripple effect born from it will no doubt alter both families for years to come.
One thing is for sure, "suffering or punishment will follow".
He did have that right...
At the time of her death, Rider had been employed as a caregiver and was attending Ivy Tech Community College.
She leaves behind numerous family members, friends and her ever loving dog "PJ".