Update 9-2-11: GUILTY
Brett Howe pleaded guilty on six sex abuse charges in two separate cases and will spend 15 years behind bars. He must register as a sex offender.
Police in Oregon have arrested a 20-year-old man on accusations that he
engaged in sexual activity with at least two underage girls
he met using both MySpace and Facebook.
Brett Allen Howe
, of Wilsonville, has been charged sexual abuse, contributing to the sexual delinquency of a minor, first-degree rape, second-degree rape, first-degree sexual abuse, first-degree sodomy and unlawful sexual penetration.
Police say there may be more victims out there and anyone who has additional information on this case is urged to contact a confidential tip line at 503-723-4949 or text CRIMES (274637), with the keyword "CCSO" as the first word in the message.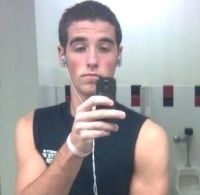 Bail has been set at $675,000.
Besides his above MySpace profile, Mr. Howe also maintained the aforementioned account on Facebook found
here
.