A 15-year-old boy from Kentucky has been charged with
killing his legal guardians
after police went to a rural home in Edmonton and found two dead bodies.
An Amber Alert had earlier been issued for the suspect,
Christopher Endicott
and his 12-year-old girlfriend
Kyra Shockley
after police suspected the two might have been involved in the double homicide,
a report by the UPI stated
.
Endicott is accused of shooting both 51-year-old Barbara Holloway and 50-year-old Gary Holloway and then stealing their 1997 Chevy Lumina.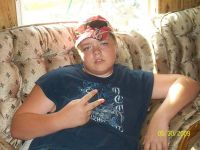 The two were found dead in their bed by their adult son.

The 250 lb. Endicott had been placed in care of the Holloway's after his mother just couldn't handle him anymore.
His biological father is also said to currently be serving time in prison.

Police say his now dead guardians had earlier ordered him to stop seeing his girlfriend of three months.