Police in Georgia have arrested a drag queen and her male stripper roommate of less than a year on
human trafficking charges
.
Both
Steven Donald Lemery
, 35, a gay male stripper who uses the alias
"Steven Lang"
and
Christopher Thomas Lynch
, known as drag performer
"Pasha Nicole"
, have both been charged with numerous counts involving minors in the case.
Lemery has been charged with 5 counts of aggravated child molestation, child molestation, enticing a child for indecent purposes, 2 counts of human trafficking and pandering by compulsion.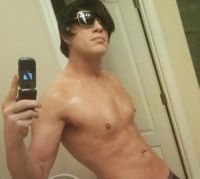 Facebook profile of: Steven Lemery
Lynch has been charged with human trafficking of a minor person for sexual servitude, 2 counts of sexual exploitation of a child, pandering by compulsion and possession of drug-related objects.
According to the Atlanta Journal-Constitution
, the two reportedly used social networking sites to lure young teens from three different states to their apartment for sex and then later reportedly wouldn't let them leave.
Originally Lemery had been the only one charged in the case until an unidentified victim in Alabama
spotted Lynch on television
bragging to a local reporter that he/she assisted with police in the investigation.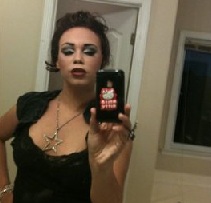 MySpace profile of: Christopher Lynch
Besides the above MySpace profile of Lynch, there is also another one located
here
as well which then links us to a
personal website
which subsequently provides us with a rather active
Formspring
and a now deleted
Facebook
.
And for your viewing pleasure all:
Almost as disgusting as the allegations itself, is Lynch
commenting on a Topix forum
in regards to the case in which he/she can clearly be seen pimping his/her own various websites on the Internet for publicity and
initially
ignoring any sympathy toward the alleged victims in the case.
A fellow commenter quickly called Lynch out on this:
"I cant believe you are using this story to try to help what you think is your career!! You didnt mention anything about those boys or any remorse for them or anything, your just trying to promote yourself which is ****ing sick!! Just because you become a rat to save your own ass doesnt make you any better than him and dont think your ass is so safe either!! I know for a FACT your day is coming and you will pay for your part of things that went down in that house!"
How prophetic...
After feeling attacked, Lynch then fires back in repeated comments and begins to evoke emotion and at the same time of course calls anyone who questions him/her a bigot.
He/she ultimately ends the drama over there now as a perverted hypocrite thanks to his/her last comment posted in early March:
"Steven Lemery is a monster, may Justice Punish him and the creator have mercy on his soul."
As for Lemery, many of his "friends" on Facebook
appear to be outraged
after discovering that he wasn't actually 19 or 22 as he allegedly told them but instead 35 and now currently residing in jail on child molestation charges.
What a duo these two!