A New York man is currently behind bars today after being charged with
raping a 4-year-old Pennsylvania girl
.
Jeffrey Allen Abbey Jr
., of Jamestown, has been charged with felony rape of a child, felony involuntary deviate sexual intercourse with a child, felony aggravated indecent assault, felony sexual assault, felony statutory sexual assault, felony corruption of minor, indecent assault and simple assault.
Police say the alleged incidents occurred sometime between March 16th and March 19th and that the victim was taken to a hospital where doctors concluded she suffered injuries consistent with sexual assault.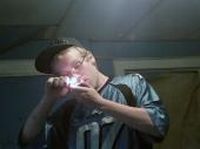 Abbey, who was later interviewed, allegedly admitted to sexual assaulting the child.
Besides the above MySpace profile, the recently turned 18-year-old
(happy birthday Jeff)
also maintained two accounts on Facebook found
here
and
here
.
Other profiles maintained by the suspect all on myYearbook can be all be accessed
here
,
here
,
here
,
here
and
here
.
Abbey, who writes on his
main Facebook
that he is "addicted" to marijuana and a recent high school drop out seems to have recently suffered a rather bad breakup with his now ex-girlfriend as a result of the girl's mother, or so at least Abbey appears to blame.
Earlier this week, he had posted the following:
"i feel so sick to my stomach right now and i just wish my life would end then people couldn't accouse me of **** i would never do!!!!"
Looks like the smart mom made the right move for her daughter...