A 26-year-old Oregon man has been arrested after allegedly stealing his neighbors wireless Internet connection to
download and trade thousands of images and videos of child pornography
.
Kyle Scott Broadhurst
, of Milwaukie, was taken into custody in February after reportedly confessing to trading the illicit material over a p2p network.
Detectives say Broadhurst, who prefers girls between the ages of 8 and 11, tapped into various unsecured wireless networks using a
directional WiFi antenna that he purchased overseas
.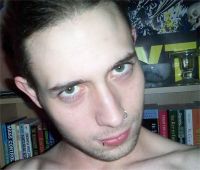 The pot-smoking and obviously paranoid 9/11 truther obsessed with conspiracy theories and ponytails (see above MySpace) has since plead not guilty.