A North Carolina man has been taken into custody after allegedly having a week-long sexual rendezvous with a 14-year-old girl
he met using MySpace
.
Daryl Sage Waldron
, 27, of Waynesville, has been charged with one count of first-degree statutory rape and three counts of second-degree statutory rape after
admitting to detectives
that he engaged in sexual activity with her on numerous occasions.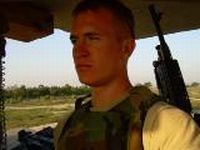 According to a report, Waldron had befriended her on the once popular social networking giant when she was just 13.
While I won't be linking the teen's MySpace profile, Mr. Waldron can clearly be seen commenting on some of the various pictures she had posted on her profile.