New York--A 31-year-old man has been
charged with child pornography
based on evidence that was seized at his residence earlier this summer.
Roger S. Luczkowiak, of Dunkirk, was taken into custody on charges that carry a maximum penalty of at least 10 years in prison.
The material is believed to be of both photos and videos including two homemade videos reportedly filmed by Mr. Luczkowiak himself.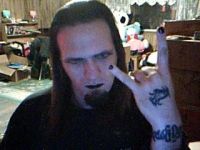 He is also said to have "
starred
" in some of them as well.
One of the so-called videos features both his voice and a prominent tattoo as well as him "
giving instruction
" to a small 6-year-old female child for sexual purposes.
If you know of any information on the case of Mr. Luczkowiak please contact the U.S. Attorney's Office at 1-800-320-0682.