A 19-year-old North Carolina man has been arrested on charges of statutory rape involving a child between the ages of 4 & 6.

Alex Ruiz Artis, of Grifton, is currently being held on $155,000 bond for the alleged assault and also one count of identity theft.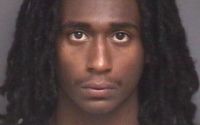 As of this writing, not much is known regarding the case against Artis other than that he's expected to appear in court later today on the charges.

Not really much there (
for us to see
) on his above Facebook account either, but Artis also had a MySpace profile found
here
as well as an account on Twitter
here
.