A pervy 19-year-old prophetic man from Michigan has been accused of
molesting a 5-year-old girl
.
Austin Kashat
, of Sterling Heights, was taken into custody after
admitting to police
during an interview that he took the alleged victim to a local park and intentionally touched "intimate parts" of her body.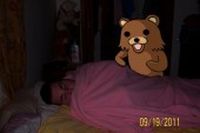 Police refused to elaborate more on the case.
In a sad touch of irony, the above
Pedobear
picture that links to his Facebook account had actually been posted on
Kashat's MySpace profile
in 2011.
Another profile on the once popular social networking website can also be found
here
.
Other sites of interest:
Twitter