A 29-year-old Michigan man has been arrested for
molesting a child he reportedly had been babysitting
.
Mark James Moon
, of Ionia, is believed to have gained his neighbor's trust and then slowly built a relationship allowing him to babysit their children.
However, that trust was heavily misguided as the family had to

eventually

go to police in March, after he told his parents of the alleged abuse.
Police say they seized two computers belonging to Moon and
found child pornography on each
.
Moon faces numerous charges including first-degree criminal sexual conduct, three counts of child pornography and one count of using a computer to commit a crime.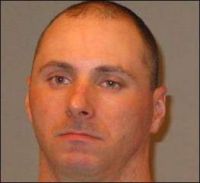 Besides his above Facebook, Moon also maintained an account on MySpace (
now private
) located
here
.
Just for kicks, here's a personal ad Moon once wrote
on POF
:
"hay wasup im mark james i realy dont no what to say add me to facebook under mark james . I also got skype and yahoo I am a fun easy going guy and i enjoy hunting, fishing,bike riding camping love the outdoors i also like to build things love to tinker with electronics i also liston to a lot of country my radio usaly dont leave b93 but i do liston to other kinds of music i also dj i own my own eqipment my goals in life as of right now are geting in the milatary i was born and raisd in Ionia MI i also hangout in langston/lakeview/greenville areas a lot love hanging out with friends i also spend alot time chillin with my lil brother we are realy close a little family back ground most of my family is military i do have a few cops in the family to so i stay good so i dont have to deal with them lol love going to the gard unit and helping out lol i was thinking about geting in the national gards sents i been going there sents i was a kid anyways lol anything eles just ask"
If your currently single and considering posting a personal ad over the Internet, please for the love of God do everyone a favor and use your damn spell checker.
And for the record he is a graduate of
Carson City High
.
Sadly, I cannot post some of the other sites frequented by Moon because of the extreme content however he does have accounts on both
fubar
and
twitter
.