A North Carolina man is expected to be charged with first-degree murder in the death of his uncle.

Charles Christopher Crampton, of Jacksonville, was arrested earlier this morning around 2:00 A.M. while driving a Corvette belonging to his now deceased uncle, Robert Herman Blizzard.

Blizzard, a retired Fort Bragg soldier, was found at his home on Friday where police say Crampton had been recently staying.

According to a report, a weapon had been recovered in Crampton possession.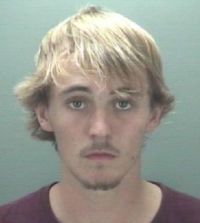 The 21-year-old, who was employed at a local Walmart, is also so-called "friends" with the victim's son as is seen on his above Facebook profile.

I wasn't quite sure that the profile initially belonged to Crampton as some of his pictures didn't look (
at least to me
) like the mugshot provided by the police department, but his D/O/B of 09/11/1990 and connection to his full name, victim's name and location sealed the deal for the post.
Besides the aforementioned Facbeook profile, Crampton also maintained two skeleton-like accounts on both
myYearbook
and
MySpace
.