A homeless man from Pennsylvania has been arrested for
sexually assaulting a little 2-year-old boy
.
Police say
Daniel Ray Mossey
, 43, admitted to them in an interview to touching the boy's private area "for self-gratification" while babysitting him at home where he was supposedly allowed to stay.
The father became aware of the incident after the boy woke up screaming for someone to stop touching him, according to
The Scranton Times Tribune
.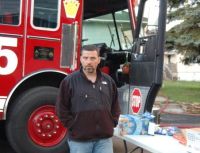 Bail was set at $100,000.
While Mossey is said to be homeless, he still managed to maintain a profile on Facebook. It looks like word has already gotten out as is evident with some of the comments posted there by his 'friends'.