A 22-year-old Pennsylvania man has been
arrested on child rape charges
after posting sexually explicit messages on an 11-year-old girl's Facebook page.
Lafonsa Perry
, of Lansdale, was taken into custody after a family member of the child reportedly discovered "disturbing" messages posted by the suspect and subsequently contacted police.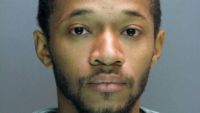 Perry is accused of supplying the girl with marijuana and then
sexually assaulting her
.
Besides the above Facebook profile, Mr. Perry also maintained an older account over on MySpace found
here
.