I can't tell you how many times I've seen the words, "
sexual assault
", "
child
" and "
dog
" in the same headline over the last six years while blogging here.
And now again comes another great '
wtf'
moment via
a
disturbing article
out of North Carolina that I've been saving for awhile now...
"A Rowan County man was arrested and charged with molesting an 11-year-old girl and sexually violating a dog..."
Matthew Curter
, 29, was arrested by authorities after they say he
admitted to molesting
the girl and having sex with his pet dog on a
regular basis
.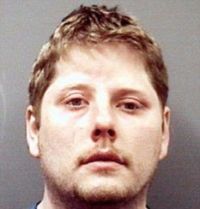 Curtner has since been charged with three counts of first-degree sex offense of a child, crime against nature and cruelty to an animal by torture.
He
remains in jail
in lieu of 1 million dollars.
Besides the above Facebook,. Mr. Curter also maintained a profile on MySpace found
here
.