A 17-year-old Colorado teen has been charged has an adult in the
death of his 2-year-old cousin
.
Jesus Cornelio
, of Greely, is accused of shoving the boy off a couch in an apparent struggle over his cellphone.
The suspect reportedly had been
trying to access his Facebook page
at the time of the incident.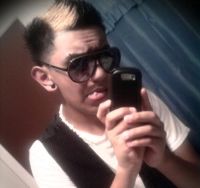 The boy was so badly bruised and injured that he was flown to a hospital in Aurora where he later suffered a cardiac arrest and died two days later.
Police say Cornelio changed his story
four different times
before eventually coughing up.
He also reportedly admitted to previously
being in a gang
.
There isn't much available to us via his above linked Facebook account, but an older profile belonging to Mr. Cornelio on MySpace can still be accessed by clicking
here
.