A 25-year-old Ohio man and four others have been arrested for the brutal murder of a 21-year-old woman.
Matthew Puccio
, of Urbana, met the young victim identified as Jessica Sacco over Facebook and later following
on-off relationship
subsequently
killed her by suffocation.
According to Puccio
, Sacco's last words were,
"I still love you, and I forgive you."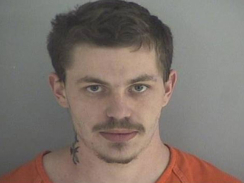 She was dead in less than 60 seconds.

He has since told reporters he's 'insane' and now maintains the recently dead woman begged to be murdered.

The other individual's charged in the case and their Facebook profiles:

Andrew Peter Forney
Kandis Forney-Cox
Christopher Wright
Sharon Cook

All the fun filled killer gang of trailer park losers were also self-proclaimed Juggalos.