A 30-year-old married man and cub scout leader has been arrested for
allegedly raping and photographing one of his cubbies
.
Anthony Polubinski
, of Oak Harbor, reportedly began raping and molesting the victim when he was between the ages of 8 and 9. The assaults are said to have have occurred "
thousands of times
" and pictures of the victim have since been recovered on the suspect's computer.
Police fear there are more victims possible.
Polubinski's profile on Facebook has
suddenly disappeared since his recent arrest
but there's still some Internet activity on his part available on the web.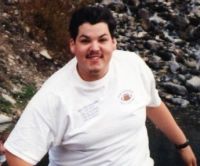 Besides the above MySpace account, the stay at home dad also maintained profiles on the following websites:
E-Mail:
Duse2000@hotmail.com
acpolubinski@frontier.com
dusey2k@verizon.net