A 28-year-old Missouri woman and her sex offender boyfriend have both been arrested for allegedly
sexually assaulting a dog
.
Dana Kintz
and 37-year-old Shawn Ingram, both of Tower Grove, were each charged with unlawful sex with an animal.
Not surprisingly, Ingram was also charged with
possession of child pornography
.
Police say they received a domestic disturbance call to the couple's home on March 12th after Ingram is said to have punched her.
While there, officers then reportedly uncovered child pornography on the
registered sex offender's
cell phone and also a picture of Kitnz having sex with a dog.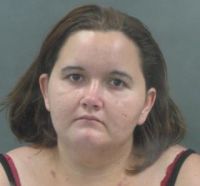 According to authorities, Kintz told them Ingram forced her to wear a mask and a dog collar and assault the dog.
The dog has since run away.
However, police say they
collected enough evidence
to charge Kintz as a willing participant.
I was unable to locate a Facebook page for Mr. Ingram, but Kintz's profile on her above Facebook account is still accessible via the usual above picture.
A MySpace created by Kintz also exist
here
.