An Illinois man celebrated his 30th birthday earlier this month in jail after being arrested for the rape of a 4-year-old child.
Eric Scott Aldrich
, of Lexington, was
indicted by a grand jury
for the alleged incidents that are said to have taken place sometime on March 16.
He could
face up to 60 years
in prison.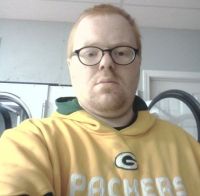 Apparently word has already gotten out on Mr. Aldrich (who likes to be called "Big Red") over on Facebook as is evident on his above profile.
Other websites maintained by the suspect include:
Xanga #1
Xanga #2
MySpace #1
MySpace #2
Youtube
Reddit
Photobucket
Livejournal
Stickam
Webshots
eBay
Plentyoffish
Most of links above are either old profiles from years ago or bare boned accounts not even really worth linking, however his POF is noteworthy only for the following:
"Want to become either a teacher, or police officer, or a combination."
Before his arrest, Mr. Aldrich liked to use the following screen names, "
bgrd2001
" and "
godskid2001
" online.