The "Sex Offender of the Day" is fictitiously brought to you by:
You
:
"
Because you are you and not me and we're all completely different from all the other so-called pretenders posing as me and disguised as you."
...
Name of suspect:
Derek Eldon Reents
Facebook Profile
: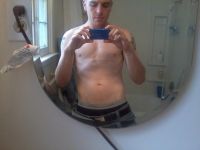 Reents was convicted in the state of Wyoming on sexual assault charges in 2007.
He was last seen in Casper driving a
1994 Ford Bronco
and sporting
Bono circa '97 glasses
via the ever awesome
PopMart tour
more than a decade ago...
"I pick my nose and eat my boogers!"
, our ever awesome 'hero' wrote in the latest entry posted less than 24 hours ago on his above Facebook profile.
...And because all good Leprechaun actually do die
under the rainbow
; our sex offender 'friend' remains magically
(
and tragically
)
involved in some sort of strange idiotic 'relationship'

courtesy of something resembling a block.