Name of registered sex offender:
Kevin Lee Welcher
Facebook profile
:
Welcher is a 27-year-old registered sex offender currently residing in a small apartment in Hays, Kansas.
Almost six years ago now I originally
outed Welcher
as a RSO actively enjoying a then jubilant ever popular Myspace.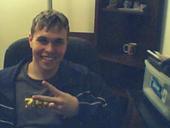 The subsequent account was then quickly deleted.
My nostalgic trip is linked (
still yet
) via the overly awesome
imageevent
.
Welcher, currently employed by
Kentucky Fried Chicken
, writes also as being engaged on his above Facebook account.
"My name is kdawg, I'm 27 now, working at both KFC and Hess. So about 70 hours a week. Still engaged to the best women in this world. *****"
Still continuing he writes:
"Liking rap music more then rock music at the moment. Still have both ears pierced and my la bret. No new tatoos. Looking to get welcher on the back of my left leg!"
Before enjoying both the once dominant MySpace and now Facebook, Welcher was convicted on sex crimes involving a child under the age of 14.

One wonders if the so-called "
best women in the world
" in willing to risk her entire future for a heavily pierced convicted sex offender working at the local KFC?