Name of pervert:
Tyler Elmer Kvasnicka
Facebook profile
: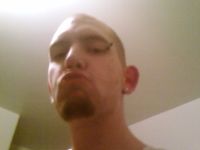 Kvasnicka is a 25-year-old freak who currently resides Aberdeen, South Dakota following a conviction in North Carolina for engaging in sexual contact with a little 3-year-old girl.
This cocky heavily pierced and big eared freak is a fan of Jay-Z, SpongeBob and Disney, according to his Facebook profile.
...When he's not busy 'sleeping', our sex offender friend enjoys 'mudding', 'drinking' and 'pop rocks'.