A 21-year-old Florida man who
made news last month
after using his samurai sword to protect his mother from his abusive stepfather has been arrested for using his 'special' sword to stab his computer full of child pornography.
Kamil Mezalka
, of Palm Coast, could face up to 20 years in prison following his arrest on Tuesday.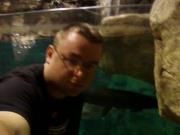 Agents with the FBI say when descended upon his home they found Mezalka in his underwear and
holding the samurai sword
that he reportedly stabbed into the side of a computer.
Mezalka was then detained after he
refused to put down the sword
.