Police in Connecticut have taken a 24-year-old man into custody on
child pornography charges
.
Frank Glenn Bergman
, 24, is believed to have downloaded the disturbing images and video files of
children engaged in sexual activity
using a p2p file sharing network.
How stoned can he get...?
Watch: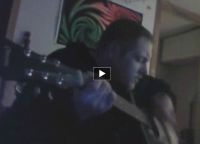 He remains free on $25,000 bail.
The suspected Montville resident is now expected
back in court
on May 17th.