Police in New York have taken a 34-year-old business owner was taken into custody after he allegedly
locked an 18 year old girl into the store that he operated and then raped her
.
James Michael Roshia Jr.
, is accused of assaulting the victim at his store in Massena called the '
Time Capsule
'.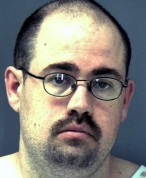 The local business reportedly sold games popular with anime obsessed teens interested in dumb ass things related to Japanese culture that their obsessed with.
The alleged victim had contacted a male friend via cell who is said to have
broken down the door
and quickly contacted police.
Bail was set at $50,000.