A Bakersfield, California man has been
charged with numerous sex crimes
involving a child including sexual abuse and sexual penetration by force.
Kory Ashton Orren
was arrested earlier this week and taken to jail following an investigation into child pornography allegations.
Officials working with Homeland Security raided his residence and reportedly seized computer related equipment and other devices.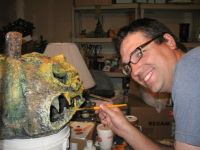 Besides his above Facebook account, Mr. Orren also maintained a profile on MySpace found
here
.
On it, the now 29-year-old suspect writes the following:
"Im a new born Christian and got recently baptized. I have a wonderful and beautiful Fiancee which I adore and love her so much. Im pretty cool to talk to and smile alot".
Orren however was not seen smiling as he was taken to a police car via a
report from KBSX
, a CBS affiliate located in Bakersfield.
He is now expected back in court sometime later today.