A 48-year-old police officer in Colorado has been
charged with child pornography
and two other charges of peeping after a search warrant was served at his home.
Rod Bretches
was taken into custody after an unidentified woman learned of a video surfacing online that

reportedly

showed her taking a shower at his home in Loveland.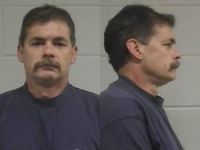 She then contacted the Loveland police department who in turn served a search warrant at his home where they reportedly
located child pornography on a computer
belonging to Mr. Bretches.
The jailed
(and then quickly released)
officer had been employed by the city for more than 19 years.