A pastor in East Prairie, Missouri has been arrested for
sexually assaulting at least three young children
.
Kenneth Neal Allen
, 36, was charged on Wednesday with three counts of first-degree statutory sodomy and possession of child pornography.
More charge are possible say police as additional victims continue coming forward.
According to reports
, Allen acted like a "neighborhood babysitter" to the victims, helping them create Facebook pages while they stayed overnight at his house which he shares with his wife.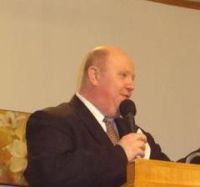 One mom told detectives she became suspicious when she went to pick up her son at the good pastor's home and he came out
wearing only boxers and covered in lotion
.
During an interview with police, Allen allegedly
admitted to sleeping in bed with some of the boys
and "accidentally" touched a child inappropriately on three different occasions.
Allen has been the head pastor of
Grace Apostolic Church
in East Prairie since November of 2007 following the death of the former pastor.
An Indiana native who previously served as an assistant pastor at
Liberty Tabernancle
near Greenwood in 2001 and for three years in Alaska, now resides at the Mississippi County Detention Center without bond.
Besides his above Facebook account, Mr. Allen also maintained a profile on MySpace found
here
.