A 20-year-old Illinois man remains behind bars after allegedly attempting to kill a pregnant girlfriend for $200.00
through his Facebook page
.
Carl E. Parks Jr
., of Chicago, recently had a
new court set
for next week on charges that he solicited someone to kill an unidentified pregnant woman who subsequently saw the post and contacted police.
Parks, who calls himself "
Carltino Moneygang Parks
", reportedly broke up with the female two days before Valentine's day and also allegedly sent her threatening text messages.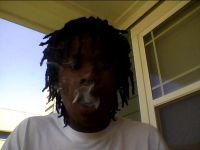 The day after the breakup, Park
posted the following message
on Facebook:
"

Got 100 on this lil dirty [expletive deleted] head. ... Any takers

."
A user identified as
LaQuisha Gudda DeShea
, then responded back:
"

WHATS HER NAME ON THE BOOK? WHERE SHE FROM? AND WHERE DO SHE LIVE .. IF U SERIOUS LET ME KNOW THE WAXX CAUSE IT CAN GET HANDLED ASAP

"
A screen capture of the exchange follows: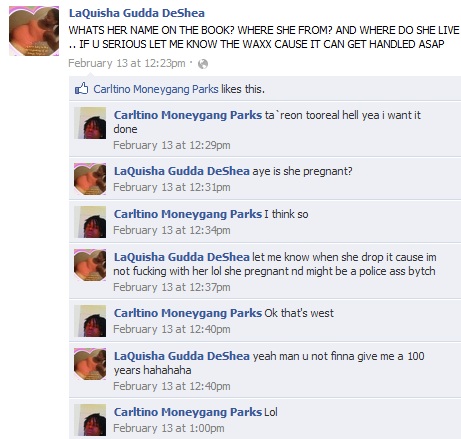 He is also alleged to have written on the day of the break up:
"

Really think iam finna kill dis bitch in dis gay azz nigga she go with

"
As of this writing all the post allegedly written by Mr. Parks remain active on his Facebook page.
Parks, who has a record, has received a lot of support from his so-called 'friends' on the popular social networking website and other dumb ass loser people to boot.
He
remains in jail
on a $250,000 bond.