A 20-year-old Indiana State University student has been arrested on child porn charges after police executed a search warrant at his dorm room and took with them his computer and other belongings.

Taylor Austin Bruckerhoff, of Newburgh, was taken into custody earlier today following the six week investigation that began from a tip from the NCMEC.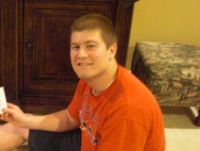 A forensic scan of Mr. Bruckerhoff's computer allegedly uncovered multiple images of young girls.

I'll usually link a picture from the mugshot (
when available
), but the picture of the suspect
provided by WTHI
appears to be a college photo of some sort.