A 30-year-old Oklahoma man has turn himself into authorities after being accused of
sexually assaulting at least six teenage boys
.
Thomas Bradley Porton
, of Broken Bow, is believed to have provided both alcohol and drugs to the alleged victims and subsequently abusing them at his home in Broken Bow.
Porton, a former employee at
Southern Oklahoma Treatment Services
, had been counseling the victims prior to the abuse.
According to an affidavit, Porton would masturbate in front of the some of the victims, provide them with pills believed to be Excastasy, show pornographic videos and is even believed to have
injected an "unknown substance"
into the shoulder of one of the victims.
When police searched his home, they reportedly found, syringes, pharmaceutical pills, pornographic videos, sex toys and glass vials containing liquid.
Porton has been charged with 4 courts of furnishing alcohol to person under the age of 21, 5 counts of lewd and indecent acts to child under the age of 16 and 2 counts of sodomy with a victim under the age of 16.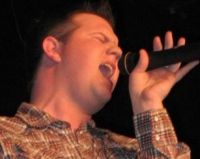 Besides the above Facebook profile of Mr. Porton, he also maintained another account over on MySpace
here
.
In it he writes that he is a singer and songwriter who performs both country and pop music and has opened for such acts as Mark Chesnutt and Little Texas.