A cable TV manager for a local access channel in Massachusetts has been charged with
possessing child pornography
after police served a search warrant at his residence in Millis.
Andrew R. Eckard
, 33, reportedly told investigators
(after being arrested)
that his ex-girlfriend of two-years
'planted' child pornography
on his computer
following a break up
during the lengthy Memorial Day weekend.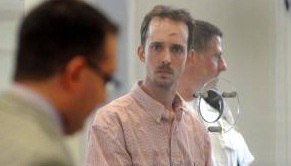 Prior to the separation and later arrest, Eckard had been living in a small camper just outside his parent's home not too far from Norfolk.
Not to shabby for a cable tv manager working in the
local access television
market
these days
...
Police don't really actually care much about the aforementioned camper and suggest it's more important that they recovered various children's clothing that Eckard used to allegedly
masturbate
with as well as DVD's, CD's and all written, some five plus computers.
Authorities also seized pills like oxycodone, vicodin and clonazepam,
according to ABC affiliate WCVB-TV
.
In a rather not so strange turn of events, our suspect has since paid a lawyer who has publicly
denied these allegations
and is willing to
fight at all cost
for our cable tv 'friend' who for a few days lived in a camper spotted outside his parent's home...