Name of registered sex offender: Jason Devonis

Facebook profile:

Jason Devonis is a 31-year-old convicted sex offender registered in the state of Rhode Island.

Our Cumberland 6'1" offender remains on probation until 2017 following his jail sentence
(?)
on first-degree child molestation charges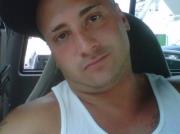 Jason writes his interest as "smoking weed", "Dr. Pepper" and "SpongeBob" on the popular social networking website.
A prefect combination for any sea or land locked offender stoned

repeatedly

out of their gourd...
Remember, you
don't have to be logged into Facebook
to report a convicted sex offender.
Just click and send twice...
Report this user/loser to Facebook now!