Name of registered sex offender:
Lleann Elaine Canaday
Other known aliases:
Lleann Elane Canaday
Lleann Elaine Stofflet
Lleann Elane Stofflet
Facebook profile
:
Lleann Canaday is our first female
"Facebook Sex Offender of the Day"
and second felon to reside from the state of
Wyoming
.
She was previously convicted of charges involving immoral and indecent acts with a minor in the small town of
Wheatland
.
In a rather strange turn of events, Canaday's deceased husband, Timothy C. Canaday was
murdered in 2008
by Wayne "Bubba" Shook in a dispute involving a car engine.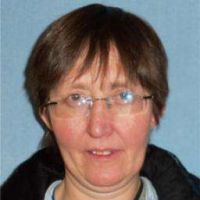 Shook was later
sentenced to 30 years
in prison involving his death.
She later sued him in a civil suit,
according to a report found online
.
Prior to the event, the
Wyoming Tribune Eagle
noted that
both
Tim and Lleann Canady had previously been placed on the registry following a conviction of indecent acts with a child.
The age of the victim was never stated.
However, a court found that a sex act against a child
did
take place and that our above Facebook now 46-year-old felon
was
convicted of that crime.
And that's all that really matters that this point:
Report this user/loser to Facebook now!